Mel Levy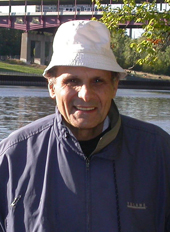 Born 1941, in Brooklyn, New York.
Professor Emeritus, Tulane University and North Carolina A&T State University.
Visiting Professor, Duke University (2007–). Professor, North Carolina Agricultural and Technical State University, 2002–2007. Professor, Tulane University, 1976–2002 (presently, Professor Emeritus). Visiting Scientist, Oak Ridge National Laboratory, December 2008. Special Visiting Professor, University of Florida, October-November, 1995. Visiting Scientist, Instituto Venezolano De Investigaciones Cientificas (I.V.I.C.), Caracas, Venezuela, June 1995. Visiting Scientist, Institute for Theoretical Physics, University of California at Santa Barbara, July 1994, July 1983. Visiting Scientist, Institute of Theoretical Physics, Kossuth Lajos University, Debrecen, Hungary, June 1994. Visiting Scientist, Department of Physics and Theory Center Cornell University, August 1990. Lecturer, Department of Chemistry, the University of North Carolina at Chapel Hill, 7/74–7/76.
International Academy of Quantum Molecular Science; Fellow of The American Physical Society; Editorial Board, Advances in Quantum Chemistry; Advisory Editorial Board, Theoretical Chemistry Accounts; Advisory Editorial Board, Progress in Theoretical Chemistry; Guest Editor: The International Journal of Quantum Chemistry; Tulane Liberal Arts and Sciences, Faculty Research Award, 1998.