Bernard Pullman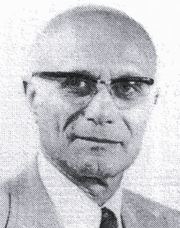 Born March 19th, 1919 in Wloclawek, Poland. Director, Institut de Biologie Physico-Chimique, Paris, France.
Member of the French Academy of Sciences. Member of Pontifical Academy of Sciences. Honorary Member: Academy of Sciences of USSR, India, Hungary, GDR, Poland, Czechoslovakia, Academy of Medicine of Torino, Royal Academy of Pharmacy of Spain, Academy dei Fisiocratici of Sienna. Doctor Honoris Causa of the Universities of Liege, Uppsala, Madrid, Torino, Jerusalem and of the Weizmann Institute of Science. Past President of the International Union of Pure and Applied Biophysics. Honorary President of the International Society of Quantum Biology. Officer of the Legion of Honor. Commandeur of the National Order of Merit.
Author of:
Les Théories Electroniques de la Chimie Organique (with Madame Pullman), Masson, Paris (1952); La Structure Moléculaire, PUF, Paris (1953) (English and Spanish translations); Cancérisation par les substances Chimiques et Structure Moléculaire (with Madame Pullman), Masson, Paris (1955); Quantum Biochemistry (with Madame Pullman) Intersciences N.Y. (1963); La Biochimie Electronique, PUF, Paris (1963) (Japanese translation); Plus approximately 400 original scientific publications.
Important Contributions:
After a fruitful period of research in Quantum Chemistry (1945-1960) my scientific activity was directed since 1960 towards the elucidation of the electronic structure and conformational properties of biomolecules and biomacromolecules and towards the determination of the role of these factors in their biological function. Similar line of research was carried out in the field of the application of quantum theories to molecular pharmacology.
In recent years extensive computations have been carried out in particular on the electronic structure of the different polymorphic form of the nucleic acids and on the determination of the mecanisms responsible for the specificity of their interactions with exogenic drugs, especially carcinogens and antitumor compounds. The important role of the electronic molecular potential of the nucleic acids was put into evidence.